I found this site and it had the instructions on how this guy built this grinder. I have a bigger #32 grinder that I had the gun shop turn down the spindle for me so I could put a pulley on the grinder(like the one in the pic).
Here is the site:
http://www.sausagemania.com/grinder.html
I already had the 3/4 hp motor and the grinder cost about $55.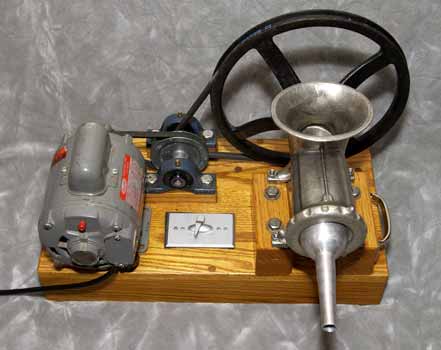 I will have about $160 into it when it's all done. I will post some pics.. It will look pretty much like this one. If you are going to build one I would slow the RPM down from what this guy runs his at.
Mine does about 62 RPM and that is just about perfect. I have a 1 1/2" pullet on the motor that goes to a 6" pulley on the "Pillow Block" axle and nect to that I have a 1 1/2" pulley that goes to a 14" pulley on the grinder..