Yep you can modify it to your hearts content. The 10/22 is the Tinker Toy of the Gun World so to speak in that you can make one into almost anything you want it to look like.
The nice thing about the 10/22 is that most of the work can be done by the owner with just a bit of knowledge in mechanical things. To start with the Factory Trigger Group can be polished and tweaked into a decent 2 1/2 to 3 pound trigger pull without too much work involved. There are sites on the net that go into detail (including photos) on how to trigger jobs. If you want to go deeper there are kits by Volquartsen and Power Custom to name just two that range from just a prepped hammer to a prepped hammer & sear to full blown drop in kits to complete trigger housings. I have probably done a dozen trigger jobs on 10/22's using just the factory parts, and the ones with the Aluminum Trigger Housing and Trigger seem to turn out better and are easier to rework than the newer versions with the Plastic Trigger Housing and Trigger.
If you want a really good trigger (better than the Volquartsen TG-2000 complete trigger assembly) for about half the $$$ there is a guy in Modesto California that does a complete precision trigger job for $90.00 ($107.50 if you include the Auto Bolt Modification, Extended Magazine Release and Drilled & Tapped for an Overtravel Screw). I have had this guy do a couple for me, 3 friends have had him do their triggers as did my nephew. All have turned out better than the Volquartsen TG-2000 complete trigger assembly that my son in law has.
As per barrels I personally have had exceptional results with Green Mountain Bull Barrels, as have several members at our Indoor Shooting Range. While I have not had a Factory Carbine Barrel reworked in terms of setting it back and rechambering I have had a factory carbine barrel shortened to 17" (cutting off the front sight in the process) and had it recrowned. This barrel shot good to start with but for some reason shortening it, removing the front sight and recrowning it made it shoot even better.
There are a few guys on the net that do Bolt Work to the 10/22's. Most notablly is setting the headspace. This involves milling the front face of the bolt to the proper dimension so the recess in the bolt face where the head of the cartridge sits is not too deep. Most factory 10/22 bolts have this recess at .050", and in reality the rim of a .22 LR Cartridge is not that thick so the head of the cartridge may or may not be held firmly against the breech face upon firing. I have my local machinist mill the front face of the bolt so the recess for the cartridge head is .043". All that is required is to remove the firing pin and extractor to do this.
I also chamfer (radius) the lower rear surface of the bolt and polish the front face of the hammer where the bolt rides on the hammer during cycling. When doing this I also add a Tuffer Buffer Recoil Buffer. What all this does is to provide for much smoother cycling, especially with Standard Velocity Target Ammo. The recoil buffer actually makes the action quieter as you do not hear the steel bolt stopping against the steel bolt stop pin.
I also have my machinist friend drill and pin the firing pin. What this does is holds the firing pin so it can not ride up when the firing pin strikes the rim of the cartridge. This and the other bolt work (especially setting the headspace) is said to help eliminate fliers. In my 10/22's it has helped and I have also noticed that my velocity strings over the chronograph are more consistant with less extreme spreads.
As per the 10/22 Stocks, only your imagination will limit what you can go with. There are so many different brands and styles available it is mind boggling.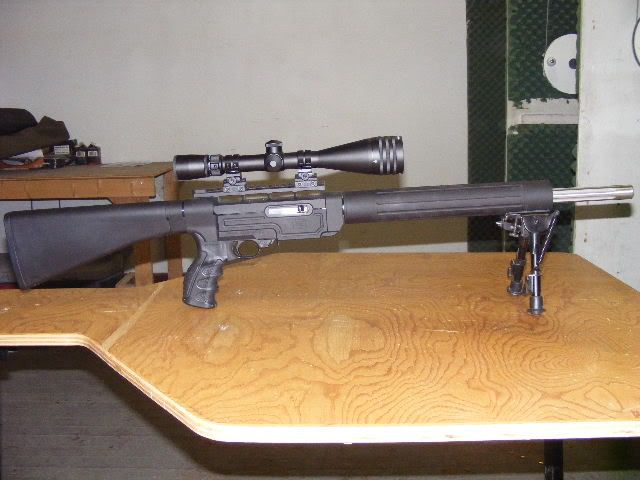 Above is a Custom Ruger 10/22 with all the modifications listed about. It is set in a Nordic Components AR-22 Receiver Chassis Kit with an AR-15 A2 Buttstock (with DPMS 1" Stock Extension), AR-15 CAA UPG-16 Pistol Grip and Model 1 Sales Rifle Length Free Float Tube.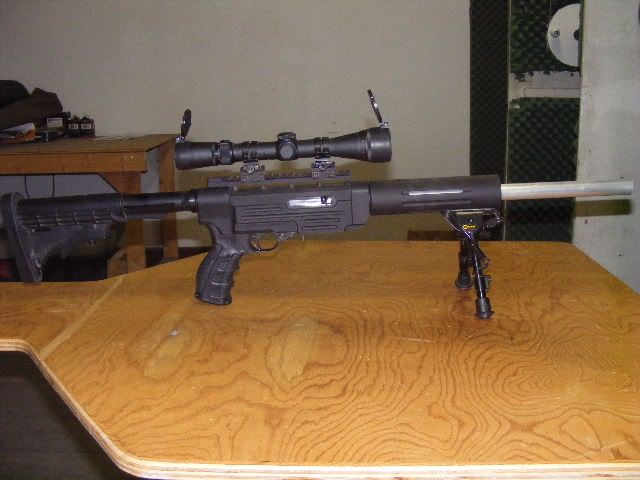 This is a shorter lighter version of the above but uses a Model 1 Sales AR-15 6 Position Collapsable Buttstock and a Carbine Length Free Float Tube.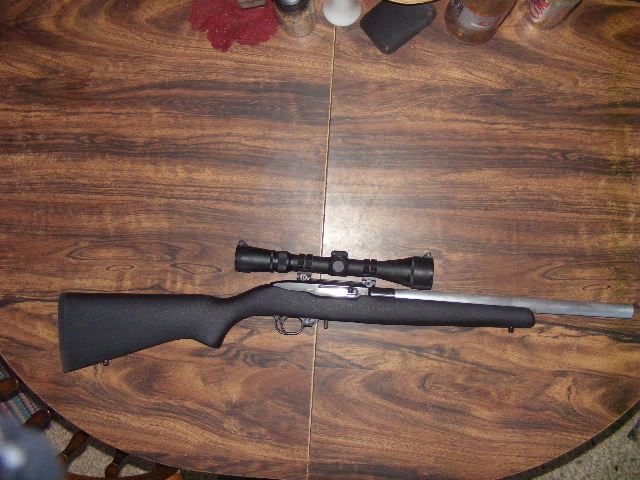 This is the same 10/22 as pictured above except I removed it from the Nordic Components AR-22 Stock Kit and put it in a Bell & Carlson Synthetic Classis Stock.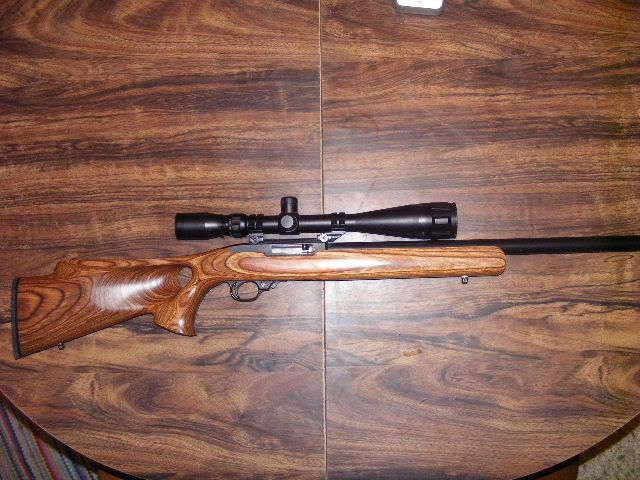 This is one we put together for a friend of mine a week or so ago.
This is one I put together for a different friend a couple years ago.
These are just a few examples of what you can turn a basic carbine into.
Larry